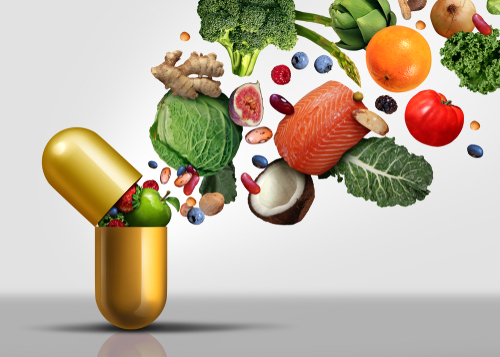 Overview
BNMC aims to lead efforts in collaboration with community health centers, non-profits and our Campus institutions to conduct public health research and advance public policy centered on the efficacy of food and nutrition interventions on health outcomes and cost of care.
Program Highlights
Highmark BlueFund Food As Medicine Research Project
BNMC was awarded $240K grant from the WNY HighMark Blue Fund for a Food as Medicine Research Project to take place on the campus in collaboration with Kaleida Health, Roswell Park, Urban Fruits and Veggies, Osteria 166, the Mindful Institute, and Queen City Couriers.
The project will start in 2022 and establish a replicable model of clinical-community partnerships. It includes delivery of medically tailored meals along with hands-on nutrition education, mindfulness training, and environmental supports to result in improved health indicators, enhanced quality of life, and reduce healthcare utilization.
BNMC's First Annual Food As Medicine Symposium: Harvesting Health
Designed to educate local healthcare clinicians and public health practitioners on best practice models, evidence-based research, and policy solutions to accelerate adoption of Medically Tailored Meals and Food Prescription Programs into regular methods of care.
The symposium featured over 20+ national and local experts, with 2 national keynote speakers, 2 national physician presentations, engaging panel discussions involving 3 national and 16 local experts, and breakout rooms, followed by an in-person networking event sponsored by Kaleida Health and Great Lakes Quality Institute with 40 people in attendance. Discussions centered on culinary medicine programs, nutritional curriculum added to medical school education, and food insecurity and access for all. BNMC connected the partners in the Buffalo Niagara region to go further together knowing more research and pilot projects need to be launched and partnerships are essential.
The Symposium also engaged the faculty, staff, medical residents, and public health students at local universities and colleges to help advocate for nutritional curriculum, so the future of healthcare easily embraces the connection between food and health.
BNMC Food As Medicine Coalition
The Coalition was developed by BNMC to enhance advocacy efforts, ideate research projects, support local initiatives, and educate on local and national efforts.
Education
Educate on the spectrum of influences of Food As Medicine interventions, from food systems to marketing to overall clinician care.
Advocacy
Advocate for public policy that supports access to food and nutrition services for vulnerable populations.
Sharing
Share best practices in the provision of nutrition education, medically tailored meals, food pharmacy, and health and well-being programs.
Partnership
Convene our local and national leaders in order to define best practice Food as Medicine interventions and encourage partnership.
Get Involved
If you are working on Food As Medicine programs or are interested in this effort, we encourage you to join our meetings and take part in the discussion. We also encourage you to join the National Food Is Medicine Coalition to learn the latest in advocacy work, share research and network with others.
Interested in learning more?
For more information on the BNMC Food As Medicine Coalition, please contact Marla Guarino at mguarino@bnmc.org